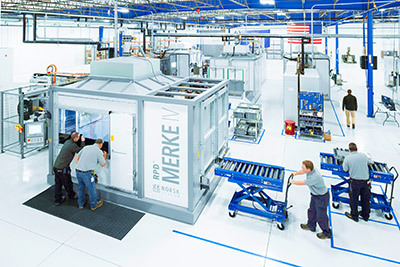 Norsk Titanium Presenting at Carnegie Nordic IPO Seminar
June 1, 2022: Norsk Titanium AS ("Norsk Titanium") today presented at the Carnegie Nordic IPO Seminar. The presentation was held by Norsk Titanium's CEO Michael J. Canario.
Norsk Titanium continues to focus on its top priorities of maintaining 100% on-time deliveries for production programs while completing qualification and testing programs for Commercial Aerospace, Defense and Industrial customers. On the path to reaching its long-term revenue targets, Norsk Titanium is progressing towards the following milestones in 2022:
Commercial Aerospace: Complete Airbus machine qualification and material qualification
Defense: Qualification programs with US Department of Defense prime contractors and first production order
Industrial: Hittech industrialization part and first production order
The presentation from Carnegie's seminar is located here.
For further information, please contact:
Ashar Ashary, VP Finance
ashar.ashary@norsktitanium.com
+1 (518) 556-8966