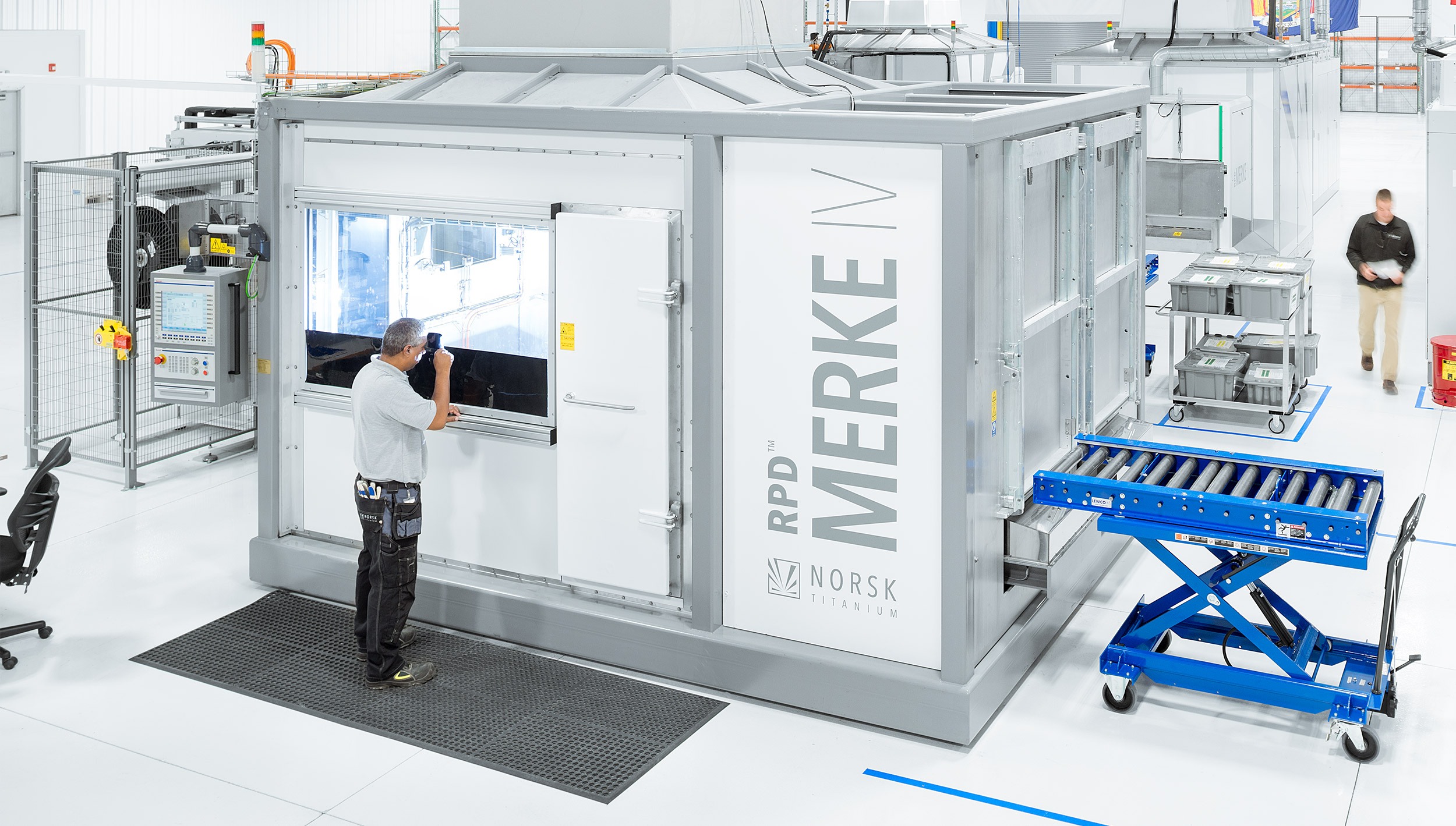 Norsk Titanium Marks Milestone in U.S. Production
With the Manufacture and Test of the First Additive Integrally Bladed Rotor
Farnborough, UK – July 17, 2018 – The University of Notre Dame Turbomachinery Laboratory (NDTL), Norsk Titanium US, Inc. (Norsk), Pratt & Whitney and TURBOCAM International are collaborating to develop and test additively manufactured turbomachinery components.
This collaboration will focus on exploring the applicability of Norsk's Rapid Plasma Deposition™ (RPD™) material to turbomachinery applications. As part of this effort, NDTL will test an additively manufactured integrally bladed rotor (IBR) produced and inspected to meet the applicable quality specifications used in Pratt & Whitney's current turbomachinery components. 
The team has completed the initial phase of testing, with TURBOCAM International conducting machining trials of Norsk's RPD™ material, and Pratt & Whitney successfully inspecting the material to the same specification as forged turbomachinery components.  
The material's manufacturing qualities were evaluated for applicability to TURBOCAM's precision milling processes.  "We were very pleased with the performance of the RPD™ material.  We found no evidence of alpha case, and there were no residual stress concentrations that would cause distortions typically found in additive materials.  The material was even more stable than what we would expect if we were machining a titanium forging," said General Manager TURBOCAM Manufacturing John Bressoud. 
In the next phase of testing, an additively manufactured IBR will be tested in conditions representative of those the component would see in an operational environment. This testing will be conducted using NDTL's world class turbomachinery test facility. "The Notre Dame Turbomachinery Laboratory's staff, faculty, and students work with industry to develop the technologies critical for next generation gas turbine aero-propulsion and ground-based power generation units," said Director of NDTL Joshua D. Cameron. 
The ultimate goal of this effort is to develop the manufacturing processes and tools needed to deliver the cost and schedule savings, as proven today on Ti 6-4 airframe components, and apply them to more complex and heavily loaded turbomachinery components. "We are thrilled to be working with world-class organizations dedicated to advancing the state-of-the-art in additive manufacturing and look forward to the next steps in developing qualified turbomachinery for the engine industry," added Norsk's Chief Commercial Officer Chet Fuller. 
The entire manufacturing and testing effort has been jointly managed by Pratt & Whitney and is being evaluated for application to future engine developments. 
"Pratt & Whitney has been steadily increasing its use of additive manufacturing techniques over the past 30 years with additively manufactured parts in production on both our Geared Turbofan™ PW1500G and FT4000 engines," said Senior Vice President, Engineering David Carter at Pratt & Whitney. "We look forward to the milestone of testing rotating additively manufactured parts and putting them into production." 
Norsk will have a display of its RPD™ technology at the upcoming Farnborough International Airshow 2018, Hall 4, Booth 41430, July 16-20. For more information, visit norsktitanium.com.