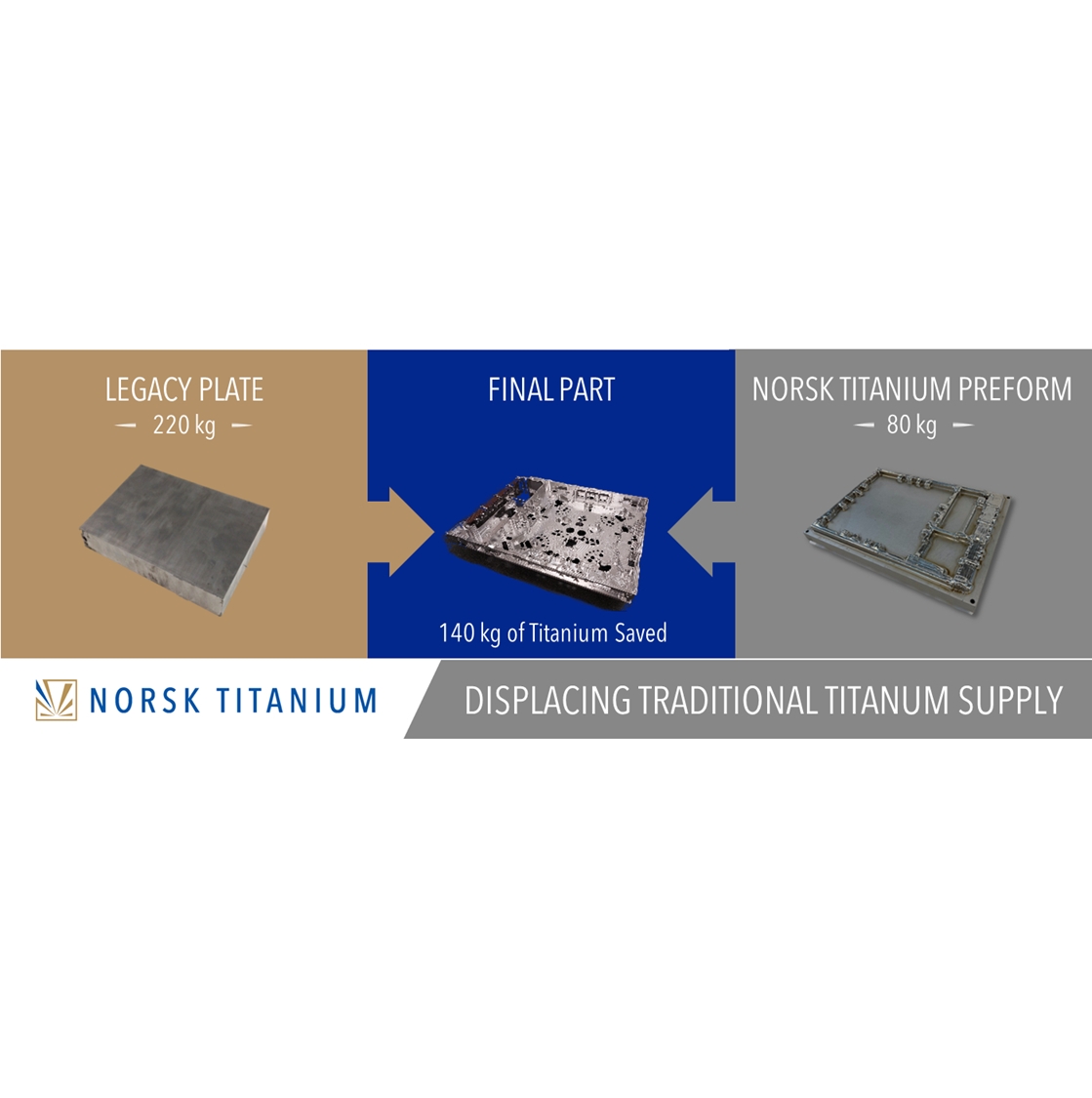 Norsk Titanium Displaces Legacy Raw Material Suppliers in the Semiconductor Market
HØNEFOSS, NORWAY – February 21, 2023 – Norsk Titanium AS (Euronext: NTI, OTCX: NORSF), a global leader in Directed Energy Deposition (DED) additive manufacturing for aerospace-grade structural titanium components, announced the first commercial delivery of additively manufactured near-net-shape titanium preforms to the semiconductor manufacturing market.
The 80 kg Ti 6-4 near-net-shape carrier tray was developed with long-time partner Hittech Group, based in Den Haag, Netherlands and is a critical component of semiconductor manufacturer ASML's lithography system. Under a recurring production contract, Norsk Titanium is supplying a near-net-shape preform into an existing supply chain that delivers the carrier tray to ASML.
With this delivery, Norsk Titanium has displaced a legacy forged plate producer as the raw material supplier for the final component. Using their patented Rapid Plasma Deposition® (RPD®) additive process, Norsk Titanium delivered a preform with 140 kg (64%) in raw material savings, while allowing the customer to utilize the existing supply chain and expand their current capacity without any new capital investment.
"We are seeing that customers in all markets are looking for alternatives to their legacy titanium suppliers. With this delivery we have demonstrated that Norsk Titanium can deliver shorter lead times and offer an alternative to titanium raw material suppliers that may be experiencing disruptions in today's environment," said Nicholas Mayer Norsk Titanium Vice President of Commercial, "Norsk Titanium is delivering a sustainable alternative to legacy forgings that is compatible with existing Ti 6-4 material specifications and production methods. As we expand production in our core aerospace and industrial markets, we continue to prove the value our additive solution brings to our customers."
Production of the initial preforms took place in Norsk Titanium's engineering and development center in Hønefoss, Norway and has transitioned to our state-of-the-art production center in Plattsburgh, New York.
For more information, please contact:
Nicholas Mayer, Vice President Commercial, Norsk Titanium
Email: nicholas.mayer@norsktitanium.com
Tel: +1 518 324 4010