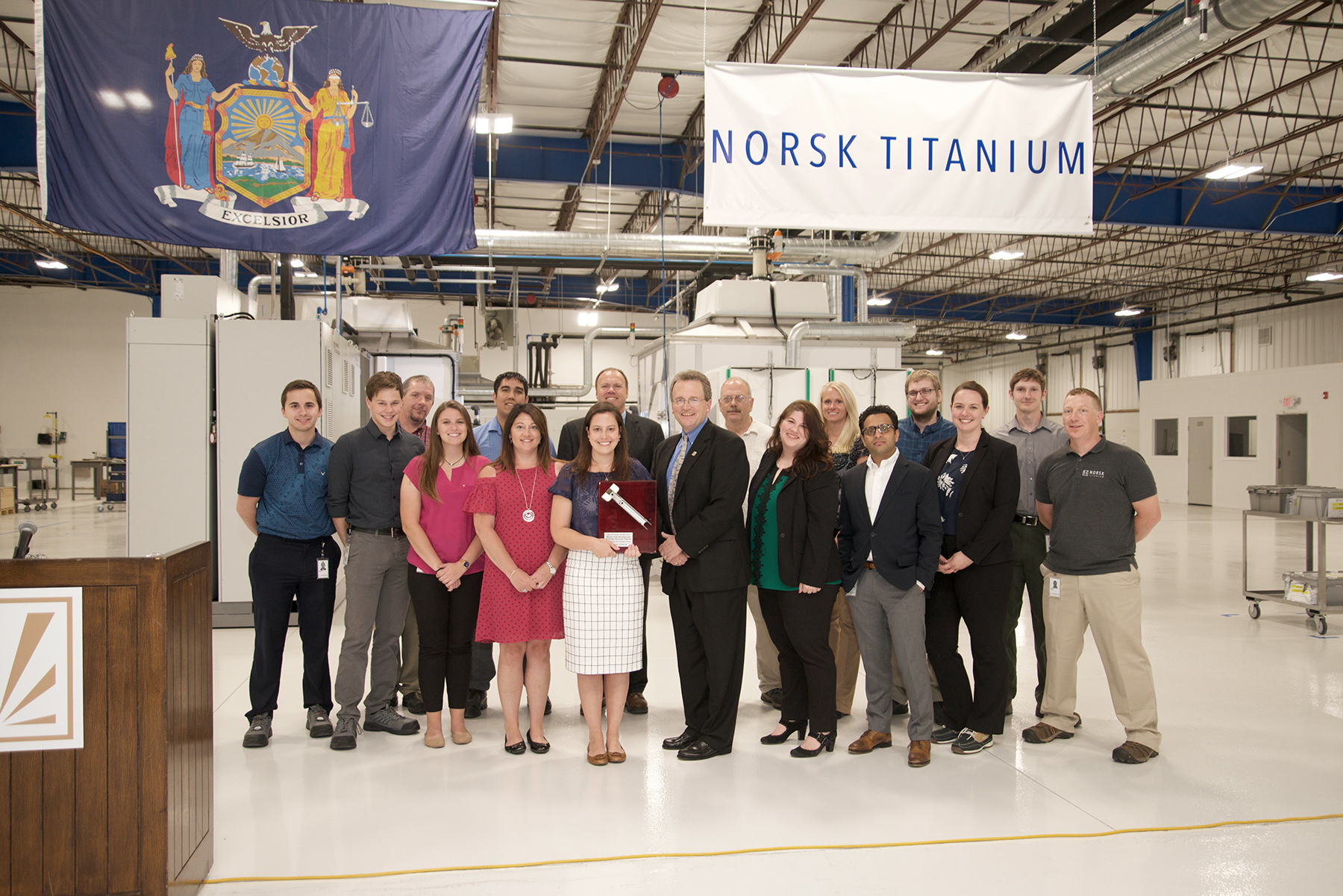 Norsk Titanium Hosts Congresswoman Elise Stefanik for Review of Progress and Expansion Plans
Company highlights new orders from multiple industries and hiring plans for 400 employees
PLATTSBURGH, NEW YORK — July 5, 2017 — Norsk Titanium AS, the world's first FAA-approved supplier of aerospace-grade, additive manufactured, structural titanium components, hosted a visit by Rep. Elise Stefanik (R-NY-21) and discussed new business plans and the positive impact it is having at its Plattsburgh, NY plant, which is located in Rep. Stefanik's district. The company announced it is fulfilling its growth plans to expand production and is also ramping up its hiring to meet the growing demand for its products.

"Over the last several weeks we have announced at least a half dozen agreements with customers, investors, and new production expansion plans," said Warren M. Boley, Jr., President & CEO of Norsk Titanium. "What has been especially satisfying is the broad range of industries interested in our revolutionary production capabilities. The agreements cover industries ranging from aviation, space, transportation, oil and gas, and maritime."
"Two weeks ago, we announced a 60 percent expansion of our facility on top of our existing ramp-up plans," Mr. Boley added. "Tied to that growth, our employment plans include targeting a total of 100 jobs by the end of this year, 250 by the end of 2018, and 400 in 2019."
"This visit was an important opportunity to see the amazing work being done by Norsk Titanium in Plattsburgh," said Congresswoman Stefanik. "Plattsburgh continues to emerge as a major manufacturing and economic hub from our region, and Norsk is an excellent example of a cutting edge firm expanding their business and creating good paying jobs for North Country families. In Congress, I was pleased to recently work on a legislative initiative that will help 3-D printing firms like Norsk, and I will continue to work on initiatives to develop a work force that can meet the needs of our high-tech employers. I thank President Warren Boley and all Norsk employees for the tour today."
While titanium 3D-printing has grown over the years, Norsk has developed breakthrough technology that takes it to the next level. Unlike current 3D-printed products that use titanium powder as their base, Norsk's proprietary Rapid Plasma Deposition™ (RPD™ ) process uses titanium wire with plasma torches to print titanium structural components on an industrial scale. Powder processes are limited to small intricate parts (several lbs.), while RPD™ can produce structural parts with a vast range in size and application. RPD™ is also 50–100 times faster than powder-based systems, and uses 50–75% less titanium than incumbent forging processes.
As Norsk has been planning and expanding its facility, it is also partnering with the North Country Chamber of Commerce in Plattsburgh to support and promote the successful launch and growth of Norsk's industrial-scale factory including workforce training, economic development, and STEM outreach including specific educational programs for SUNY Plattsburgh, local community colleges, and other schools in the region. Garry Douglas, President of the North Country Chamber of Commerce also attended the briefing and joined in a press conference with Rep. Stefanik and Mr. Boley.
"Congresswoman Stefanik continues to be very supportive of the Norsk project in Plattsburgh," said Garry Douglas, President of the North Country Chamber of Commerce. "She helped expedite FAA approval of a site transfer process at the old airport for the upcoming facility there, and now she is actively working to open the door for future defense-related use of the Norsk Titanium technology. Particularly with all of the recent announcements in Paris, it was excellent to have her on site for a full update and to discuss ways she can continue to be directly helpful."
Norsk Titanium's choice to locate their first U.S. facility in the Plattsburgh region was due to its excellent transportation infrastructure, availability of a skilled and capable labor force, and the proximity to the large aerospace supply-chain community in the state and region.
During the timeframe of June 12–21, 2017, Norsk Titanium made the following announcements:
Norsk Titanium Delivers First FAA-Certified, 3D Printed Parts to Boeing: Norsk announced first delivery of FAA-approved 3D-printed structural components for installation on the Boeing 787 Dreamliner. This key milestone demonstrates the production maturity and readiness of the Rapid Plasma Deposition™ technology to compete against traditional manufacturing processes.
Strategic Investment from Triangle Holdings: Norsk Titanium announced it has closed on a significant investment from Triangle Holdings LP, an aerospace investment company owned by funds managed by affiliates of Fortress Investment Group LLC. Triangle has invested over $1.2 billion in aircraft and aerospace related assets since its formation in 2011.
Spirit AeroSystems and Norsk Titanium Announce Broad-based Commercial Aerospace Collaboration: Spirit currently builds thousands of titanium parts for multiple customers around the globe and expects that at least 30 percent of them could be candidates for the RPD™ process reducing waste, using less energy, and reducing product costs by up to 30%.
Norsk Titanium Completes Testing of Component with Thales Alenia Space: Norsk Titanium announced it has completed testing of its Rapid Plasma Deposition™ material with Thales Alenia Space to develop, produce, and test components for use in spaceflight and confirms six-month cycle time savings over legacy processes. Along with our recent commercial aerospace successes, this provides further evidence that our Rapid Plasma Deposition™ material is ready to support the stringent requirements of the in-space market, revolutionizing how the industry incorporates titanium into their critical designs.
Norsk Titanium and thyssenkrupp to Jointly Explore Cooperation on New Submarines: Norsk Titanium and thyssenkrupp Marine Systems signed a Memorandum of Understanding for industrial cooperation supporting thyssenkrupp Marine Systems' effort to replace the four Ula class submarines currently in service with the Norwegian Navy by modern submarines based on the HDW class 212A design.
Mecachrome Long Term Agreement for Industrial Scale Supply Chain: Norsk announced a long-term agreement with Mecachrome, a European based leader in the design, engineering, manufacturing, and assembling of complex precision-engineered components for aircraft and automotive applications, including aerostructural and aircraft engine components, high-end automobile engine components, and motor racing engines.
Norsk Titanium Announces 60 Percent Expansion in New York Production Capacity: This agreement is incremental to the 20-machine order of its Rapid Plasma Deposition™ MERKE-IV™ machines announced last year. Machines from that order are currently being delivered throughout 2017. This new order for 12 machines will begin delivery in mid-2018 to Norsk Titanium's Plattsburgh, New York production facilities. Each of these leading-edge machines is capable of producing up to 20 tons of printed material per year, with significantly less waste and machining energy, allowing for a cost savings of more than 30% over legacy forging and billet production techniques.