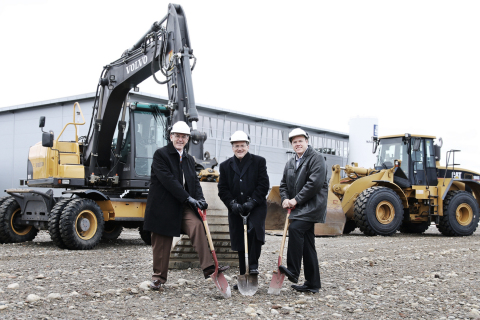 Norsk Titanium Expands European Operations with Groundbreaking of Rapid Plasma Deposition™ Machine Assembly and Test Facility
3,000-square-meter factory to house MERKE IV™ RPD™ machine final assembly and test operations, as well as to showcase Norsk's ultra lean manufacturing production line
OSLO, NORWAY — March 2, 2016 — Norsk Titanium AS, the world's leading provider of aerospace-grade, titanium additive manufacturing technology, today announced the groundbreaking of a new European assembly and test center outside Oslo, Norway.

Norsk Titanium Chief Commercial Officer Chet Fuller, Chief Executive Officer Warren M. Boley, Jr., and Senior Vice President of Operations Chris Bohlmann were on hand to kick off construction of the new facility, which is scheduled to be completed October 2016.
"Customer demand for our additive manufacturing technology is growing to the point where we need significantly more space to assemble and test our MERKE IV™ RPD™ machines prior to worldwide shipment," said Senior Vice President of Operations Chris Bohlmann. "This new factory will enable us to better serve our manufacturing partners and aerospace customers while expanding our footprint in this innovative region of Norway."
Norsk Titanium also plans to install the world's first end-to-end aerospace Ultra Lean Manufacturing line in the facility. A MERKE IV™ Rapid Plasma Deposition™ machine paired with a heat treating oven and a multi-axis CNC machining center will demonstrate the conversion of titanium wire into finished aerospace parts in a production line length of approximately 30 meters.
"The new Ultra Lean Manufacturing line allows our customers to do hands-on development of new part programs on the same campus as our worldwide technology center," said CEO Warren M. Boley, Jr. "Titanium wire comes in one end, the CAD drawing is input, and finished aerospace parts that are fully tested, heat treated and ready for installation are produced in a matter of days. RPD™ truly is a game-changer in terms of cost reduction, speed to market, and production line efficiency."